We are manufacturer, Exporter and Supplier of Bolted Repair Clamps and also known as Split sleeves, Bolted sleeves, Bolted sleeve clamps, Split repair clamp, Boltable Split Sleeve repair clamp, Split type pipe repair clamp, Flange leak repair clamps, Leak Repair Clamp.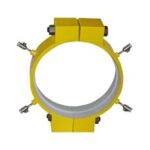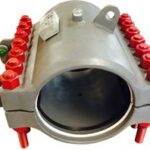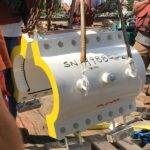 What is Bolted Repair Clamps ?
Bolted Repair Clamps are widely for making repairs to a variety of high or low pressure and high or low temperature pipeline, including oil, water, gas, steam and chemical process. The clamp halves are joined by bolts to form a high integrity pressure vessel around the damaged or leaking pipe. Sealing is provided by molded elastomer seals of the highest quality selected for compatibility with the pipe line product & operation temperature. The Split Repair Sleeve may also be welded after installation to turn out a permanent seal if conditions justify the additional expense. Split Sleeve Repair Clamps are an essential part of our suite of pipeline integrity products. Available in a wide variety of sizes, ratings and arrangements, the clamp product line can be supplied independently or as an add-on to larger repair systems Split Sleeve Repair Clamps add a new dimension to your temporary and permanent repair work on pipelines. They are used to repair both high and low pressure and temperature pipelines — offshore and onshore – carrying oil, gas, steam, chemical process and water. Its unique construction means repairs can be made while the line continues on-line, and they're designed for fast and easy installation. Once the Split Sleeve Repair Clamp is bolted in place, the seal is complete.
The standard clamps are rated to 1000 psig of design pressure with Buna-N as sealing material, but Split Sleeve Repair Clamps can be custom-made to different pressure ratings and sealing lengths to meet your requirements. Split Sleeve Repair Clamp (SSRC) is an economical, bolt-together fitting consisting of two halves which is designed to allow both temporary and permanent repairs to damaged pipelines. The SSRC clamp halves are joined by means of nearly tangential bolting, in such a manner as to produce a high integrity pressure vessel around the affected area of the damaged pipeline. Primary sealing is provided by the highest quality molded elastomer seals appropriately selected for compatibility with the pipeline's product, its environment, and the operating temperature range. The elastomeric sealing is accomplished via compression of two circumferential and two intersecting longitudinal packing seals, which, upon full compression, form a continuous pressure barrier. Seal material is retained in the seal grooves by utilization of a "pre-compressed seal tension groove" design. This allows simplified replacement of the seals in the field thereby eliminating expensive factory seal replacements.  The clamps are fully compensatory pressure vessels, hydrostatically tested to 1.3 times the rated working pressure (as per ASME Section VIII Div.1 clause UG-99) All Clamps are equipped with a 1" NPT vent port.
Benefits of Bolted Repair Clamps.
Can be used in cases of leaking pipes or where wall thinning occurs
They are self-sealing, achieved by bolting of the clamp studs
Standard clamps come in single seal arrangement, but double seal arrangement can be provided upon request
Hydro tested to 1.5 times the clamp design pressure (or as per your requirements)
Widely used for subsea and topside repairs
Provided with wedge shape grooves to prevent slipping of seals during installation
Designed to ASME VIII
Can be provided with prep angles for welding on the pipeline as and when required
THE CLAMPS CAN BE USED TO REPAIR THE FOLLOWING PIPE TYPES:
| | |
| --- | --- |
| Ductile Iron (DI)                 | PE coated steel |
| Cast Iron (CI)                      | PVC |
| Steel (St.)                           | GRP |
| Asbestos Cement (AC)        | PE |
Features of Bolted Repair Clamps.
Standard Clamps are fitted with a high grade elastomeric seal made from Buna-Nitrile or Viton. In these applications the sealing load is achieved through the bolt tensioning of the clamp studs (split sleeve design)
All Clamps are designed with an external pressure test facility that determines the joint integrity prior to commissioning
Twin seal configuration is also available to allow inter-seal testing to be carried out during installation
Clamps may be supplied for both topside and subsea repair applications
Engineered solutions can be manufactured to use metal graphite composite seal that is provided in all Split sleeve Clamp Mechanical Connector products. Graphite based sealing ensures a chemically resistant, high temperature, high pressure seal that will not degrade in aggressive or harsh environments
Clamps bespoke connector solutions can be provided by our dedicated engineering team.
Applicable International Standards
The design, engineering and supply of the fire tubes (two off) shall conform wherever applicable, and unless otherwise specified & agreed, to appropriate API, ASTM, ANSI ASME or equivalent standards / codes and also to internationally-accepted standards and practices. All Standards and Codes followed for the Design shall be of latest version/edition.
| | |
| --- | --- |
| API RP 1160 | Managing System Integrity of Hydrocarbon Liquid Pipelines |
| ASME B 31.4 | Pipeline Transportation System for Liquids |
| ASME Section IX | Specification for Welding and Brazing Qualifications |
| ASME Section V | Non-Destructive Examination |
| ASME Section II, Part C | Specification for Welding rods, Electrodes and Filler materials |
| ASME Section VIII, Div 1 | Rules for Construction of Pressure vessels |
| ASTM E 94 | Standard guide for Radiographic examination |
| ASTM E 709 | Standard guide for Magnetic particle examination |
| ASTM E 1003 | Standard test method for Hydrostatic leak testing |
Design Standards And Specifications
ANSI pressure classes 300, 400, 600, 900 and 1500
Design based on API 6H.
Design calculation ASME Sec. VIII Div. I
Body materials: A216 WCB, A216 WCC, A352 LCC, A516 Gr.70 (Suitable for normally corrosive services)
Stud material: A193 Gr. B7 Nut material: A 194 Gr. 2H
PTFE coated bolts and nuts, bolt material A193 Gr. B7 and nut material A194 Gr. 2H
Standard coating yellow epoxy 100 microns
Gaskets (H) NBR or Viton
NBR temperature range is from – 20 C to + 80 ̊ C̊
HNBR temperature range is from – 20 C to + 150 ̊ C̊
VITON temperature range is from – 20 C to + 200 ̊ C
Weldable option is available with heat insulating gaskets
Double row sealing is available on request
Sacrificial anodes can be installed on the sleeves for long term cathodic protection
Non-standard lengths are available on request
Full MTC document will be supplied with the order
Leakage is much costly or dangerous; such as gaseous services & offshore applications.
Gaskets are replaceable without any special tools.
Girder rings can be installed upon client's request.
Design Criteria And Industry Standards:
All SSRC's are tested in accordance with the API Specification 6H, "Specification for End Closures, Connectors, and Swivels" and ASME BOILER AND PRESSURE VESSEL CODE, Section VIII, and with ANSI standards B-31.3, B31.4, & B31.8, where applicable. Visions 1 and 2.
API SPEC 5L, Specification for Line Pipe
ASME Pressure Vessel Code, Section VIII
ASME/ANSI B18.2.1, Square and Hex Bolts and Screw Inch Series 
Non Destructive Testing (Ndt): –
100 % magnetic particle inspection (MPI) for stiffener to shell weld (fillet)
100 % ultrasonic testing of vent plug welds
100 % MPI of hinge welds
Hydro test as per ASME Section VIII Div.1 clause UG-99
Ease of Installation and Maintenance:
 All split sleeves are designed to be installed with the most common tools available and are readily field repairable, including full seal replacement.
Split Sleeve Installation:
Provide space enough in the lower part of the pipe in the term to install the half sleeve. The distance should be at least 0.75D.
Clean up the pipe where the split sleeve will be installed on.
Grease the surfaces that will be in contact with the gasket of the split sleeve.
Install the upper sleeve and the bolts in the shortest holes.
Each half sleeve is marked on the side. Check the marking is on the same sider. Lift up the lower sleeve & fit the bolts through the thinner part of the sleeve edge.
Tight up the bolts, if necessary weld the edge of the split sleeve.
Split Sleeve Repair Clamps are designed utilizing the latest technology, allowing optimization of design techniques and materials, resulting in lower weight, reduced bending tendencies and a more economical product.
Stainless Steel Repair Clamps:
Stainless steel repair clamps can be used to repair leaking pipes up to 30 bars quickly and economically.
Installation can be done by maintenance staff, no special tools are required. Products are easy to keep in stock and offer instant repair and quick savings. Available with NBR and Viton rubber. Installation can be done by regular maintenance personnel, the products are easy to keep in stock and offer instant repair and quick saving
All metal parts: stainless steel AISI 304 or AISI316L, passivated.
Double band (two sections) with a working range of 20-22 mm depending on the diameter.
V gasket, steel reinforced to form the pressure chamber.
Standard NBR rubber gaskets.
Bridge plates are vulcanized into the rubber gasket.
Bolts are PTFE (Teflon™) coated to prevent galling.
No loose parts that may get lost during installation.
No special tools required: a simple wrench will do the job.
Under most circumstances the clamps can be installed. Without releasing the pressure on the pipe. 
API
5L

GR
X42PLATE , GR X46 PLATE , GR X52 PLATE,
GR X56 PLATE,
GRX 60 PLATE, GR X 65 PLATE,
GR X70 PLATE – PSL 1 PLATE – PSL2 PLATE (minimum yield 245000 / 52000 / 60000 / 65000 / 70000)
ASTM A36

(structural; minimum yield 36,000
psi)


ASTM A572

GR42 PLATE, GR 50 PLATE, GR 55
PLATE, GR60 PLATE, GR 65 PLATE (structural; minimum yield 29,000 psi)


ASTM A516

GR55 PLATE, GR 60 PLATE, GR 65
PLATE, GR70 PLATE (pressure vessel; minimum yield 38,000 psi)
| | |
| --- | --- |
| ASTM A537 | Class I PLATE, Class 2 PLATE, Class 3 PLATE (pressure vessel; minimum yield 50,000 psi) |
EN 10025

GR S235 PLATE,
GR S275 PLATE, GR S355 PLATE, GR S450 PLATE , GR S185 PLATE, GR S235JR PLATE ,
GR  S235JRG1 PLATE, GRS235JRG2 PLATE,
GR S235JO PLATE , GR S235J2G3 PLATE , GR S234J2G4 PLATE, GRS275JR PLATE, GR
S275JO PLATE , GR S275J2G3 PLATE, GRS275J2G4 PLATE, GR S355JR PLATE, GR
S355JO PLATE, GR S355J2G3 PLATE , GR S355J2G4 PLATE, GRS355K2G3 PLATE, GR
S355K2G4 PLATE
ASTM A515

GR 60 PLATE, GR 65 PLATE, GR70
PLATE
EN 10025

GR
S235JR PLATE,
GR S235 JO PLATE,
GR S235 J2 PLATE,
GR S235 K2 PLATE ,GR S275 JR PLATE, GR S275 JO
PLATE , GR S275 J2 PLATE ,GR
S355 JR PLATE, GRS355 JO
PLATE, GR S355 J2 PLATE,GR S420 JR PLATE, GR  S420 JO
PLATE, GR  S420 J2 PLATE,GR S690 JR
PLATE, GR S690 JO PLATE, GR S690 J2 PLATE, GR S890 JR
PLATE, GR S890 JO PLATE ,GR S890 J2 PLATE,
GRS450J0 PLATE
EN 10028

GR  p355NL1 PLATE,  GRp355NL2
PLATE,  GR
P275NH PLATE,  GR
P460NL1 PLATE, GR P460NL2 PLATE, GR
p460NH PLATE ,  GR
P355NL1 PLATE,  GR P355NL2 PLATE,  GR
P355NH PLATE, GR P235GH PLATE, GRP265GH PLATE, GR
P295GH PLATE, GR P355GH PLATE, GR
P235GH PLATE, GR P265GH PLATE, GR P295GH PLATE , GR
P355GH PLATE, GR 360 PLATE,GR 400 PLATE,GR
430 PLATE
ASTM
A238

GR A PLATE, GR B PLATE, GR C
PLATE, GR D PLATE
ASTM A285

GR A PLATE, GR B PLATE, GR C
PLATE
API 2H

GR 42 PLATE, GR 50 PLATE 
 
API 2W

GR PLATE-42 GRPLATE
50 ,GR 50T PLATE, GR 60 PLATE

 
| | |
| --- | --- |
| API 2Y | GR PLATE-50, GR PLATE 60 |
ASTM
240

GR 310S PLATE, GR 310 PLATE, GR
309 PLATE, GR 309S PLATE, GR 316 PLATE, GR
316L PLATE, GR 316Ti PLATE, GR 317 PLATE, GR
317L PLATE, GR 321 PLATE, GR 321H PLATE, GR
347 PLATE, GR 347H PLATE, GR 304 PLATE, GR304L
PLATE, GR302 PLATE, GR 301 PLATE, GR
201 PLATE, GR 202 PLATE, GR 403 PLATE, GR
405 PLATE, GR 409 PLATE, GR 409L PLATE, GR
410 PLATE, GR 410S PLATE, GR 420 PLATE, GR
430 PLATE, GR 631 PLATE, GR 904L PLATE, GR
DUPLEX PLATE,ETC.
DUPLEX

 

 

ASTM A240 GR 2205 PLATE, ASTM A240 GR S31803 PLATE

 
SUPER DUPLEX

 

ASTM A240 GRS  32750 PLATE, ASTM A240 GR S32760 PLATE
We are World Wide Service Provider.
We Manufacturer, Fabricator,  supplier and exporter of Bolted Repair Clamps in MIDDLE EAST: Saudi Arabia, Iran, Iraq, Uae, Qatar, Bahrain, Oman, Kuwait, Yemen,  Syria, Jordan, Cyprus, AFRICA: Morocco, Nigeria, Algeria, Angola, South Africa, Libya, Egypt, Sudan, Equatorial Guinea, The Republic Of Congo, Gabon, Tunisia,  Uganda, Ghana, Senegal, Liberia, NORTH AMERICA: USA, Canada, Mexico, Panama, Costa Rica, Puerto Rica, Trinidad  and Tobago, Jamaica, Bahamas, Denmark, EUROPE: Russia, Norway, Germany, France, Italy, Uk, Spain, Ukraine, Netherland, Belgium, Greece, Portugal, Hungary, Albania, Austria, Switzerland, Slovakia, Finland, Ireland, Croatia, Slovenia, Malta, Bulgaria, Turkey, Montenegro, Romania, Azerbaijan, Czech Republic, ASIA: India, Singapore, Malaysia, Indonesia, Thailand, Vietnam, South Korea, Japan, Sri Lanka, Maldives, Bangladesh, Mayanmar, Taiwan, Cambodia, SOUTH AMERICA: Argentina, Bolivia, Brazil, Chile, Venezuela, Colombia, Ecuador, Guyana, Paraguay, Uruguay, Peru