We are manufacturer, Exporter and Supplier of Riser Pipe also know as Riser pipes with welded neck flange, Riser pipes with smooth flange, ZSM riser pipes, Threaded riser pipes.
A pipe that extends vertically from one floor level to the next for the purpose of carrying or distributing water, steam, or gas is called a riser. It is also called as a riser pipe line or riser main. This is a usually made of metal or plastic. We also find split riser pipes to cover electrical wires that run outside the house and is exposed. The spilt end is turned towards the wall or building providing total coverage. Metal risers last longer than plastic ones. In rare cases where a heavy vehicle runs over the plastic pipe, the string may break.
The choice of connections largely depends on technical requirements and installation guidelines for construction sites.
4 connection types on offer:
Riser pipes with welded neck flange
Riser pipes with smooth flange
ZSM riser pipes
Threaded riser pipes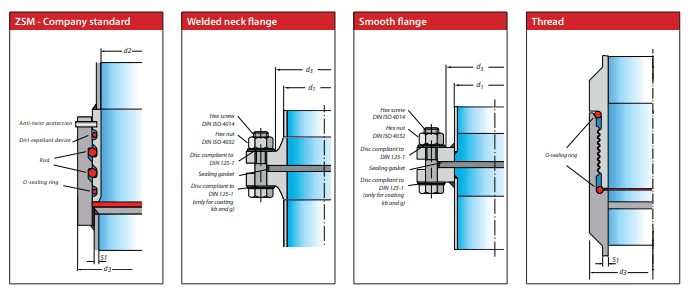 ZSM riser pipe conncections
Minimum space requirement – in case of cramped installation conditions
Quick assembly/disassembly
Two rods – double safety
Two O-rings
1.4301, AISI 304 or 1.4571, AISI 316 stainless-steel material
Size DN 50 to DN 250
Nominal pressure 40 bar
Sizes from DN 50 to DN 250
Lengths up to 6 m
Wall thickness from 2.0 to 6.0 mm
Seamless or longitudinally seam-welded
Stainless steel
S235JR (ST37-2) plastic-coated steel serves as a basic
material, Rilsan-coated, approved for drinking water.
Conforms to KTW requirements [official German
recommendation concerning the levels of polymers in
drinking water] as recommended by the German Federal
Department of Health.
S235JR (ST37-2) galvanized steel serves as a basic
material, only suitable to a limited extent for drinking
water, to be used for flange connections only.
In Stainless steel of various qualities depending on groundwater condition and temperature
M No. 1.4301 (X5CrNi18-10), AISI 304
This type of steel is resistant to water and slightly polluted
waste water as well as weak organic and inorganic acids.
Generally, it is resistant to a pH value up to approx. 4.5 in
aggressive substances low in chloride.
M No. 1.4541 (X6CrNiTi18-10), AISI 351
This type of steel has excellent resistance properties to a
variety of aggressive media. Furthermore, this material is
characterised by good ductility.
M No. 1.4571 (X6CrNiMoTi17-12-2), AISI 316Ti
Similar properties as 1.4404 but with guaranteed resistance
to intergranular corrosion due to an increased titanium
content.
Accessories of Rizer Pipes
We are World Wide Service Provider.
We Manufacturer, Fabricator, supplier and exporter of Riser Pipes in MIDDLE EAST: Saudi Arabia, Iran, Iraq, Uae, Qatar, Bahrain, Oman, Kuwait, Yemen,  Syria, Jordan, Cyprus, AFRICA: Morocco, Nigeria, Algeria, Angola, South Africa, Libya, Egypt, Sudan, Equatorial Guinea, The Republic Of Congo, Gabon, Tunisia,  Uganda, Ghana, Senegal, Liberia, NORTH AMERICA: USA, Canada, Mexico, Panama, Costa Rica, Puerto Rica, Trinidad  and Tobago, Jamaica, Bahamas, Denmark, EUROPE: Russia, Norway, Germany, France, Italy, Uk, Spain, Ukraine, Netherland, Belgium, Greece, Portugal, Hungary, Albania, Austria, Switzerland, Slovakia, Finland, Ireland, Croatia, Slovenia, Malta, Bulgaria, Turkey, Montenegro, Romania, Azerbaijan, Czech Republic, ASIA: India, Singapore, Malaysia, Indonesia, Thailand, Vietnam, South Korea, Japan, Sri Lanka, Maldives, Bangladesh, Mayanmar, Taiwan, Cambodia, SOUTH AMERICA: Argentina, Bolivia, Brazil, Chile, Venezuela, Colombia, Ecuador, Guyana, Paraguay, Uruguay, Peru