We are manufacturer, Exporter and Supplier of Flange Repair Clamps and also know as Patch clamp, Pin-hole leak repair clamp, Medium duty 'stand-off' type repair clamp, Self-seal type repair enclosure, Outside diameter type flange repair enclosure, Sealant injection at flange bolt hole area, Pipe leak repair clamps, Flange Fit Flange Repair Clamp and etc.
What is Flange Repair Clamps ?
One of the fundamental aspects of a damaged/deteriorated pipe that dictates the type of repair component to be applied is the external pipe surface condition. If the external surface is damaged to the extent that an elastomeric seal cannot provide sufficient sealing forces in the immediate vicinity of the damage, or in the relatively unaffected areas adjacent to the major damage (these areas being used to effect the sealing of 'stand'-off repair clamps), the external pipe surface may need to be re-instated using some form of filler material. Products comprising of composite wrap and rebuilding materials have been shown to accommodate such areas of extensive damage and have applications for a whole range of defects, including corrosion, non-propagating cracks, dents or gouges in both axial and circumferential orientation, and girth weld associated anomalies.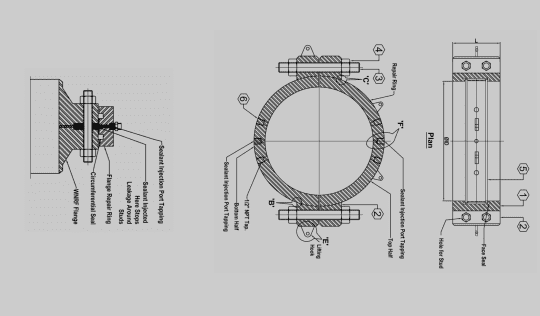 Why Flange Repair Clamps are pre-fabricated?
Flange Repair clamps WA-FRC units are a permanent repair clamps for leaking flange gasket. The unit is installed without taking the line out of service.
Operation line pressures up to 2500 psi, seals may be Viton, NBR, EDPM.
No special flange surface preparation is required, no costly shutdowns for installation.
Flange repair clamps can be installed by company maintenance personnel. There is no altering of existing flanges, other than cleaning the flange.
On scheduled shutdown maintenance the flange repair clamp can be removed and the gasket replaced. The unit may put back in service or held in stores for future repair.
Injection sockets are utilized to fully seal the compartment. In case of a small gap between the line flanges, gaskets can be installed for temporarily sealing prior too and during injection.
1. Body: ASTM A516 Gr.70
2. Stud Bolts: ASTM A193 Gr.. B7
3. Nuts: ASTM A194 Gr 2H
4. Gaskets: NBR
API SPEC 6H, Specificating on End Closures, Connectors and Swivels
API SPEC 5L, Specification for Line Pipe
ASME Pressure Vessel Code, Section VIII
ASME/ANSI B18.2.1, Square and Hex Bolts and Screw Inch Series
Material specifications Standard Clamp Components
Body: – ASTM A516
Stud Bolts: – A193 Gr. B7
Nuts: – A194 Gr. 2H.
Specification of Flange Repair Clamp
Flange leak repair clamp dimension information
Contact for Best Deals with us.
The Flange Clamp solution is deployed to repair leaking subsea flanged joints using a combination of Hydratight's low profile, hinged clamp design and our innovative sealant injection system. Our solution provides an effective alternative to the more traditional, larger, and heavier enclosure type subsea clamp products.
Key benefits of Flange Clamps:
100% leak free track record
Engineered application specific solution
Suitable for all flange sizes and pressure ratings
Rapid response to customer demands
Twin Seal configuration
Over 25 years track record
Supplied up to 42″ flange outer diameter
Cost-effective permanent repair solution
30 years design life as standard
Diver friendly installation
NACE compliant for sour service applications
Suitable for hydrocarbon applications
Structural clamp solution
The Flange Repair Clamp is a project specific engineered solution, supplied to meet our customers' exacting demands in an expedited program, supported by in-house engineering, manufacturing and testing expertise and an established global supply chain.
If you'd like to discuss your application in more detail, or want more information about this solution, please contact us.
We are World Wide Service Provider.
We Manufacturer, Fabricator,  supplier and exporter of Flange Repair Clamps in MIDDLE EAST: Saudi Arabia, Iran, Iraq, Uae, Qatar, Bahrain, Oman, Kuwait, Yemen,  Syria, Jordan, Cyprus, AFRICA: Morocco, Nigeria, Algeria, Angola, South Africa, Libya, Egypt, Sudan, Equatorial Guinea, The Republic Of Congo, Gabon, Tunisia,  Uganda, Ghana, Senegal, Liberia, NORTH AMERICA: USA, Canada, Mexico, Panama, Costa Rica, Puerto Rica, Trinidad  and Tobago, Jamaica, Bahamas, Denmark, EUROPE: Russia, Norway, Germany, France, Italy, Uk, Spain, Ukraine, Netherland, Belgium, Greece, Portugal, Hungary, Albania, Austria, Switzerland, Slovakia, Finland, Ireland, Croatia, Slovenia, Malta, Bulgaria, Turkey, Montenegro, Romania, Azerbaijan, Czech Republic, ASIA: India, Singapore, Malaysia, Indonesia, Thailand, Vietnam, South Korea, Japan, Sri Lanka, Maldives, Bangladesh, Mayanmar, Taiwan, Cambodia, SOUTH AMERICA: Argentina, Bolivia, Brazil, Chile, Venezuela, Colombia, Ecuador, Guyana, Paraguay, Uruguay, Peru